Viewelsewhere Travel Social Network

Role:
Lead Product Designer, Design Strategy, Visual Designer, Copy writer, Quantitative Research, Full stack development (Python/Django/Bootstrap), User Research/Testing


Overview

Viewelsewhere is a social network for travelers to find and share the best places they've ever been to in the world.

My wife, Paula, and I built this product together from the ground up over the course of 2 years. We built it because we wanted to solve how cumbersome it is to research, plan and share trips with people.
Exploring the problem space

Paula and I travel at least 3-4 times a year to different cities and countries. We search through a few travel sites like Tripadvisor and Yelp to find the best places to visit when in a new city.

Typically we look through Yelp to find the best restaurants and use Tripadvisor to find the best excursions and day trips to take. We both agreed that they don't always yield the best results. We also use Airbnb to do research around the specific city we are visiting as well as using it to book our stay. Often times, we reach out to friends who have traveled or lived in the cities we plan to visit.

After 3-4 websites, we eventually narrow down a few places that we think could be interesting to explore. Usually, we make our choice based on what places have the highest reviews and what our friends have recommended. Sometimes, we solely go with our friends suggestions over our initial research. We find it easier to trust friends who have been there and are speaking from experience.

The Goal

To create a web app to allow people to upload their favorite places to share with friends or with people around the world.

The idea is simple: provide a platform for millennials to share their experiences while traveling with their friends and with a community of travelers.

In the end, we will have grouped a large social network of travelers who help each other discover places that best suit their taste.


My role in this project:
Leading the UX & Visual Design.

User research & user testing
Full stack development (Python/Django/Bootstrap)
Research and Competitive Analysis

We sent an email to 300 people in our network and told them about possibly working on this idea. We asked users how they typically plan their vacations and what products they use.


10% said they used Trip advisor to plan vacations

12% said they ask their friends for recommendations


5% said they used Airbnb

We did some research into what companies were distrupting the travel industry. Some of the major players were:
Airbnb

Tripadvisor

Findery

Trover

After analyzing the competitors, we drew up the following conclusions:
Airbnb is selling a home experience, so may not be a direct competitor. But we are sold with their voice and how inviting their product is. They cater to millennials and make it extremely easy to book travel stays anywhere, anytime.
Tripadvisor is very busy and feels overloaded with features. What is their main focus? It seems like they've lost their way.
Trover feels right in terms of how our product should be. They make it very simple to create an account and start uploading photos of the places you've been to. They also lean heavily on map discovery.
Findery is similar to trover in almost every feature. I would say findery feels a bit more messy and unpolished. It doesn't feel like a legitamite app experience.

We did some research into trends for millennials who are into travel. What we found was:
85% of millennials check multiple sites before booking their travel to get the best deal possible.

They will post their experiences on social media. In fact, 97% will post while traveling, and 75% will post once a day. That's a lot of social activity.



Source: https://www.hospitalitynet.org/news/4075929.html

We found this to be a perfect way to cater to millenials, by offering a product that will help them plan trips and have a space to share those travel photos.



Moodboard & Wireframes

I put together a moodboard of what I was thinking for the design. Then, I designed wireframes based on the moodboard and inspiration from competitors.


Viewelsewhere Moodboard
01. Home screen: Photos here would be sorted by most recently added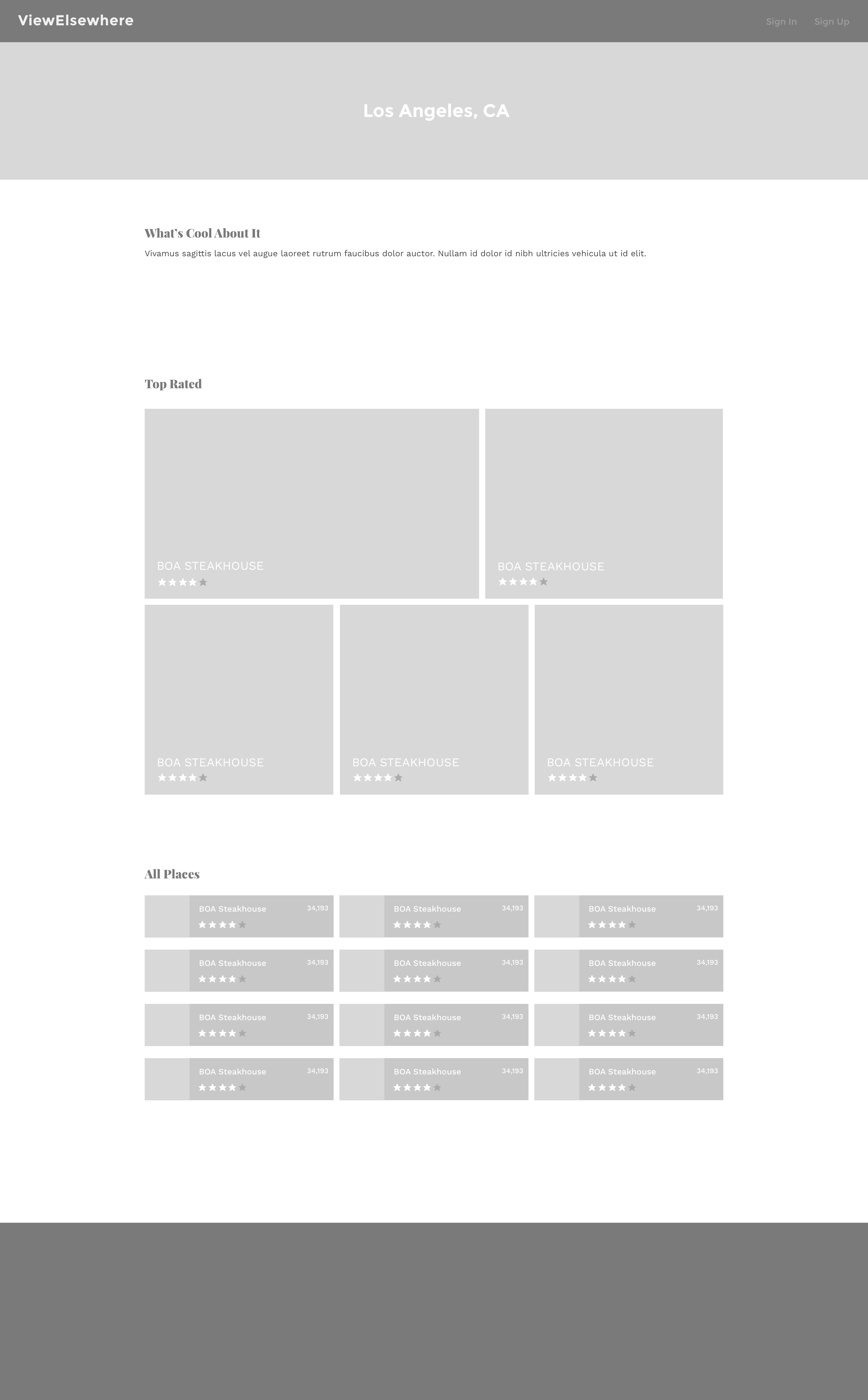 02. City Destination Page
03. Place Destination Page
04. What the user would see when they tap a picture on the place page




Hi-Fidelity Design


I designed and coded the front-end of Viewelsewhere.com
01. Home Page
02. Explore Page
03. Profile Page
04. City Destination Page


05. Place Destination Page
iOS Designs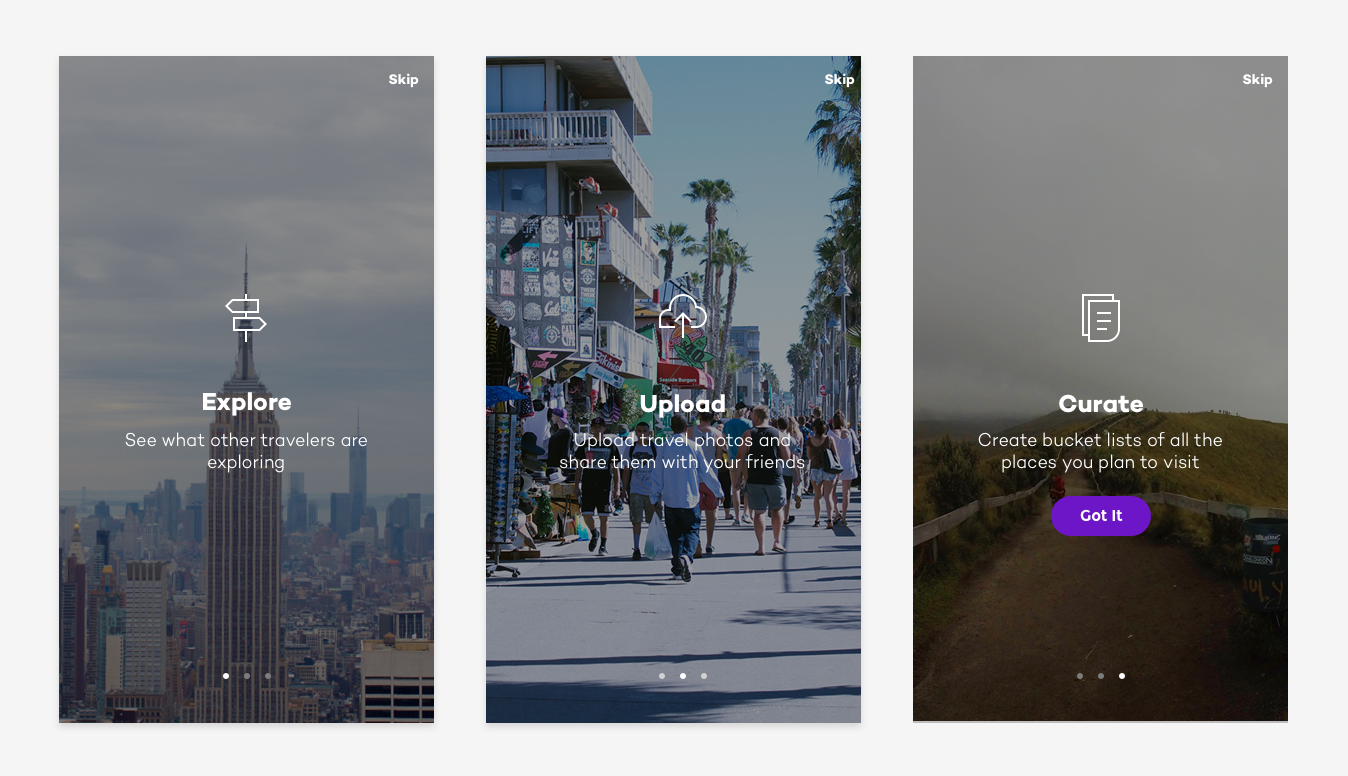 Wrap Up

Paula and I launched this product in late 2016 and have been tracking it's usage so far. We've deprioritized this product for now until we can fully manage working on it along side full-time jobs. We believe that this product will be successful one day.