Major League Baseball, App Refresh
Overview

The most important app for baseball fans. During the Baseball season, games are streamed by over 2m users worldwide on supported streaming devices. Fans are increasingly buying larger TVs and are sitting further back. How might we land on a solution that brings an immersive, lean back experience to fans? How might we evolve the baseball viewing experience in a modern way? My team and I set out to discover, define and find a solution to this problem.


Design Process Stages
What was the problem we were solving for?

The MLB app usage across streaming devices, mobile and desktop was declining.

COVID-19 caused MLB season delays
Subscribers were frustrated with no games to watch
The MLB app only supported watching live games
What was the goal?


Refresh the MLB app to create an immersive experience to the likes of Netflix, Hulu and Amazon, with historic MLB games, shows, and films to showcase MLB's breath of content



What was the approach?
The approach was simple: we set out to find areas of opportunities within the app ecosystem. I worked with a group of SME's across Research, Content, Product, and Engineering to our focus efforts towards this initiative.



Research


Key customer themes:

Could not able to visually distinguish games and their game states; live, archive or games that have finished
Confusing user experience and architecture
No personalization
Experience was limited to only games, no other content is displayed
Ideation
Design


TV Design



Responsive Web Design



Mobile Design


Game card iterations




Design System



Prototype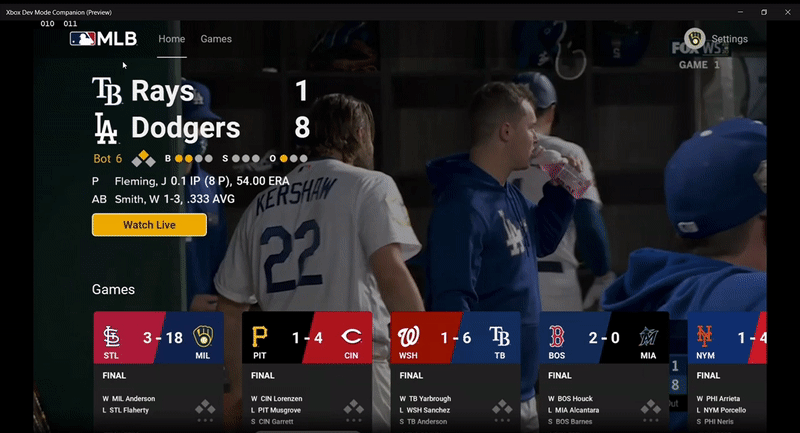 Delivery

Slow rollout launch across multiple devices at once:

Initial MVP launched to fans on web

Next to iOS

Next to streaming devices: Roku, Apple TV. And gaming consoles: Xbox, Playstation and Smart TVs: Samsung and Comcast TVs
Measure

Initial slow rollout tested well and gave us the feedback to roll ahead with a full rollout to all platforms.



Summary

It was a huge initiative with a lot of moving parts but overall a great project with high touch customer and business goals. The orchestration with multiple product groups was challenging at times but rewarding. As a team of one, i had to juggle many priorities at once, build strategic vision to carry the project, as well as supporting engineering questions. Overall, we improved the platform code and increased visual consistency across streaming devices.